Available Boxers
If you are interested in adopting, please read our FAQs and Before You Adopt pages and then fill out an application. Adoption fees are as follows: Boxer Puppy (0-6 months) - $350, Young Boxer (7-12 months) - $325, Adult Boxer (12 months+) - $300, Senior Boxer (9+) - $100. Note that we will not adopt outside of the Greater Atlanta area – no exceptions.
Please consider a donation to help us continue our mission.


Please check our Facebook page for additional boxers.
Future adopters please understand applications must be submitted to be considered for adoption. We place our dogs or best fit for the dog, not every dog is for every home. Please keep in mind that the dog you want may not be the right dog for you. We will make every effort in that case to help find a suitable match!
River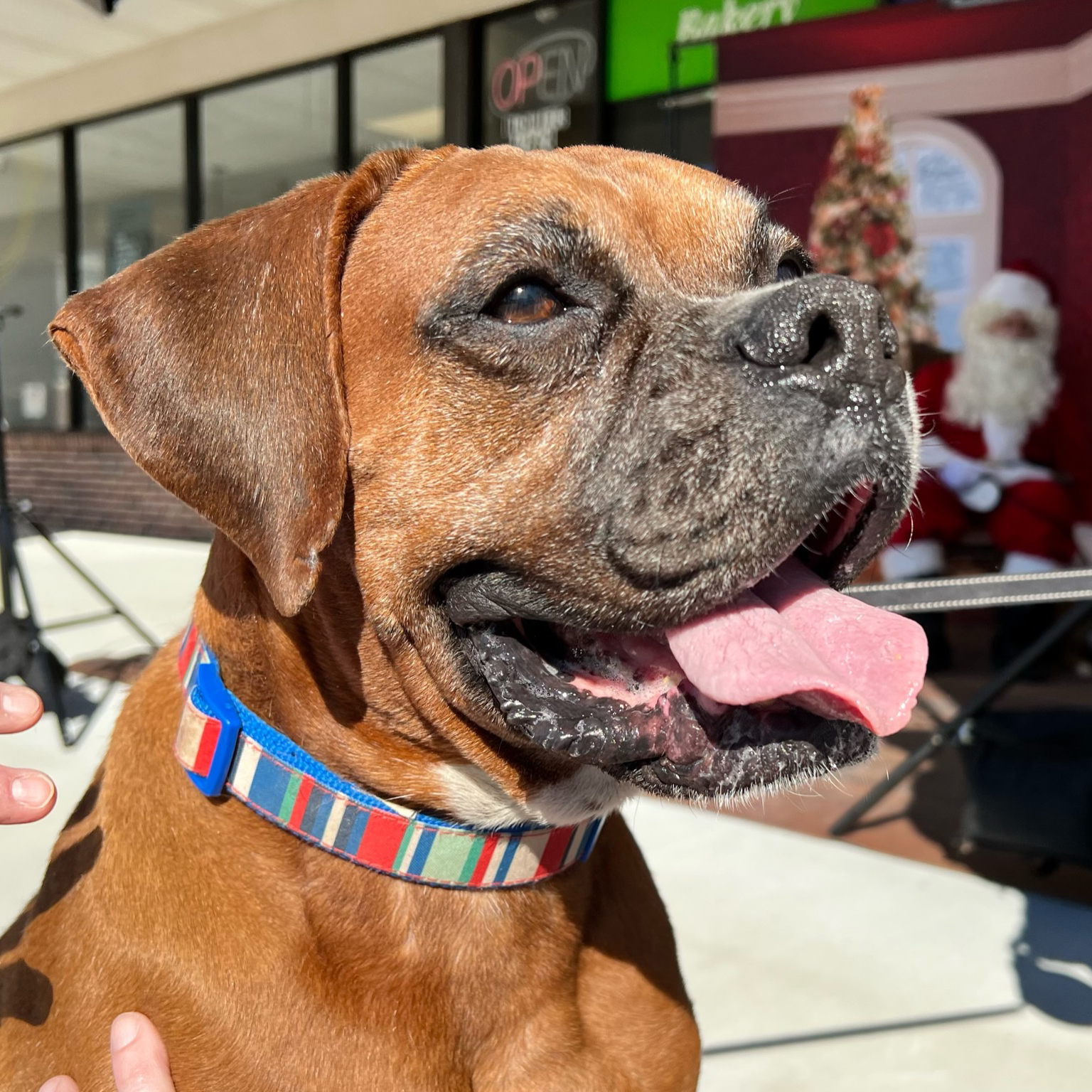 ~8 Years
Male
~63 lbs
Natural / Docked
Treatment
Now
Hi, my name is River. I am an 8-year old handsome man. I came to Atlanta Boxer Rescue after being a stud muffin. I am no longer a stud muffin which suits me fine and am completely healed.

I want you to know that I am hoping for a forever home with you. I am very comfortable with my foster mom and dad, even considered a shadow because I love companionship. I have not been shy or angry at anyone, they are all my friends. My previous foster mom said I love children too. I enjoy hanging with my foster buddy, a 6-year old Boxer named Bucky. He can get me to run a bit around the yard but mostly I love relaxing.

I am house broken but need to be let out about every 4-5 hours because I love water. Don't worry…I will tell you when I need to go out! Yes, I am vocal and will start with a little whine to get your attention. However, if you don't get the hint, I have a great bark so I don't get in trouble. Also, I am a good watch dog, letting you know when someone is outside for a visit. I don't make it a habit to mark my spot all over the yard, I pretty much pee once a trip. Due to my time in a kennel, I potty near fences and/or trees so it keeps the yard pretty clean.

I hope you are a morning person because I have an internal alarm clock! Yep, I have my foster mom trained to feed me at 8:00 a.m. sharp and dinner at 5:00 pm. I am a healthy eater, not picky at all. I love treats too but my foster mom says because of a couple of missing teeth, I have a habit of swallowing big things whole so she says small treats are the key to happiness. She breaks up the bacon and sweet potato treats so I don't choke.

I am a very smart boy but have not had much formal training. My foster mom has got "sit" about down with proper treat motivation. I learn pretty easy.

I ride in a car pretty well now and my current foster mom takes me on short trips to the mail, etc., with Bucky. I was a little stressed in a car because I thought it was used to take me to the doctor's office or to a new foster parent. I am much better now but don't take me right after I eat as my stomach seems to churn.

I love to walk with my foster parents and Bucky on a leash. It is relatively new because I am still trying to figure out which side I'm supposed to be on.

As far as toys and treats, my favorite treat at this time is a Kong filled with peanut butter. I can lick it and lick it. I picked up a stuffed toy but Bucky took it from me. It was my first toy since I have been with my foster parents (about six weeks) so I probably will like them as I get more settled in my forever home.

I'm just a low key kind of guy, looking for a family doesn't mind having a shadow! If I sound like the perfect match for your family and you are already approved, please email the adoption coordinator and let her know you would be interested in meeting me! Not approved already and live in the metro Atlanta area, please submit an application on our website!

Lila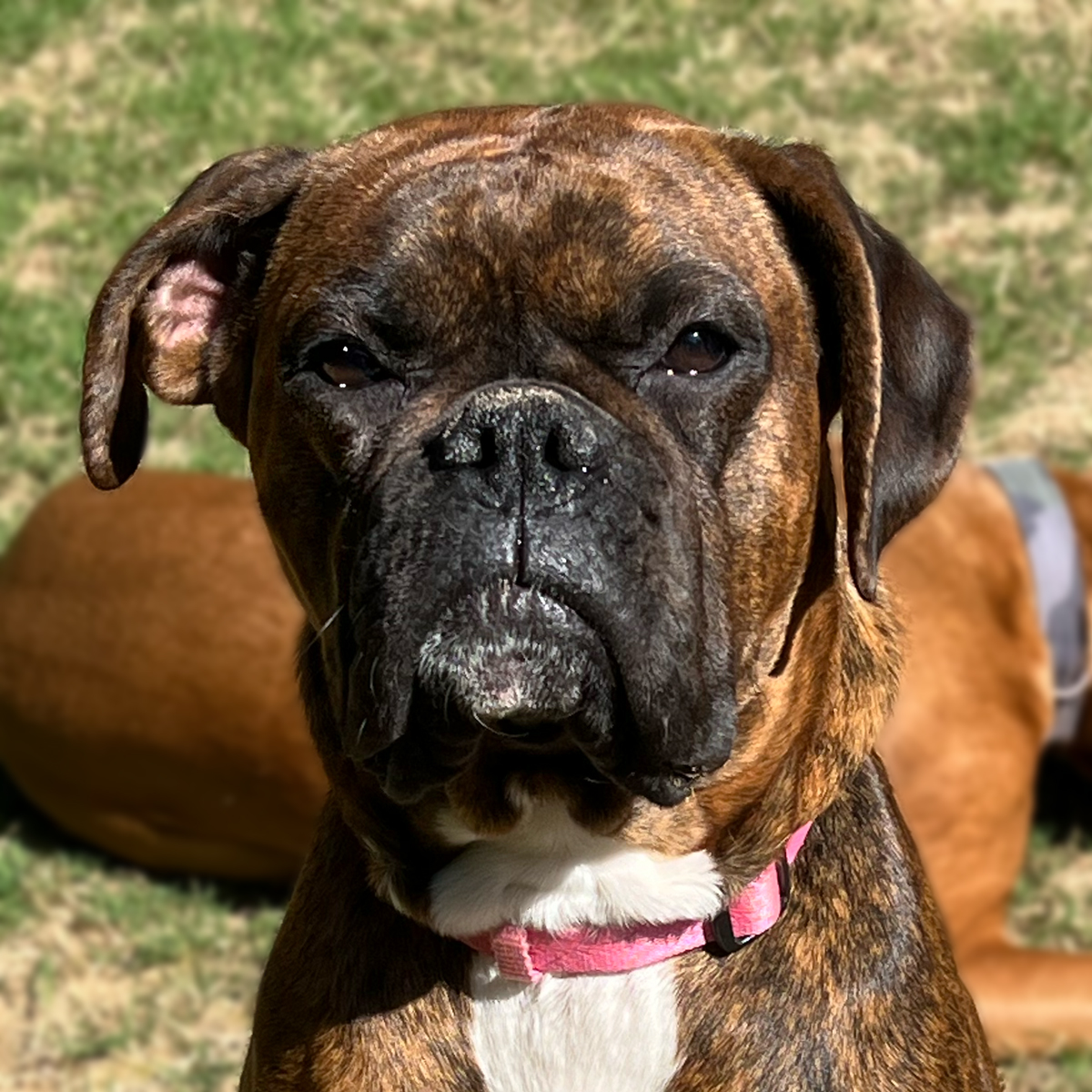 ~1 Years
Female
~60 lbs
Natural / Natural
Negative
Now
My foster mom says I'm the sweetest girl you'll meet! I am shy when meeting new people and it does take me a minute to warm up, but once we get intros out of the way and I understand you're a "dog person", we will be BFF's. I LOVE laying in your lap and getting lots of cuddles. Even if you don't think there is enough room…I will make it! My next favorite thing is playing with my silly foster boxer brothers. In the time I've spent with my foster family I've learned what toys are and enjoy throwing things around and chewing on squeaky things.

My foster family has a cat that has lived around dogs its entire life. I am a little too interested in him, so he is crated when I am out and about. They think I would do best with another young, playful, submissive brother that is my size that loves to run and play like I do. A fenced in yard is a must, because once I get my zoomies on...watch out!

I haven't been around small children, but with my super playful nature, I'm pretty sure that small kiddos would not be a good fit for me. I don't have a mean bone in my body, but with my lack of body awareness and personal space, I wouldn't want to accidentally hurt them. Both of my foster parents currently work from home, so I'm used to not being left alone for long periods of time. I do well in the crate for short periods of time.

If I sound like a great match for your family and you are already approved to adopt, please email the adoption coordinator and let her know you are interested in meeting me. If you live in the metro Atlanta area and haven't yet done so, please submit an application on the ABR Website.

Roman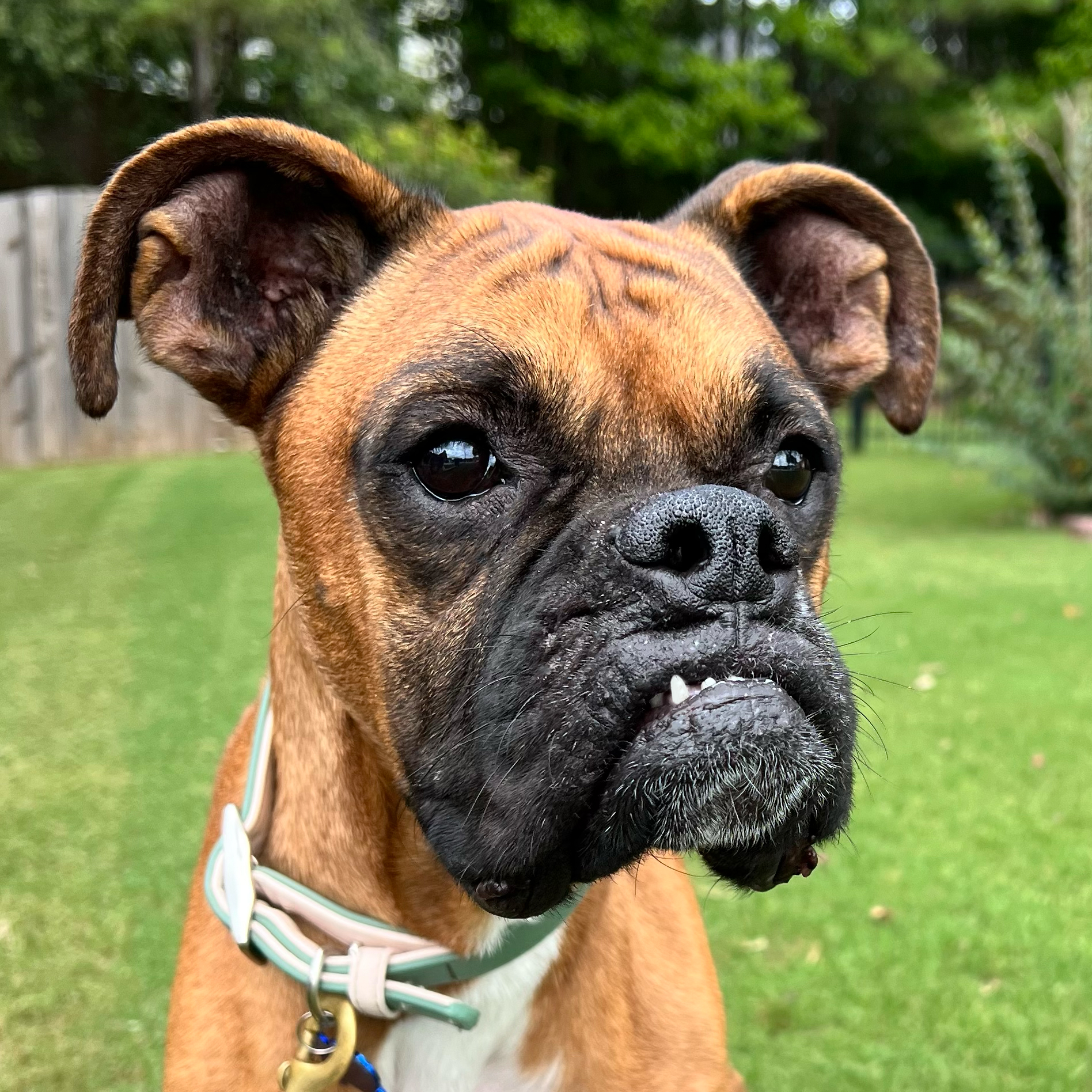 ~1.5 Years
Male
~44 lbs
Natural / Natural
Negative
Now
Welcome Roman into your home and you'll get a silly, fun-loving boxer! He's got a classic boxer underbite, personality and the energy of a 1.5 year old. He won't hesitate to leap from halfway across the room to join you for some snuggles on the couch or bed. He is potty trained, is a great sitter and eager to learn. The enthusiasm he shows for people will require some help with jumping on them and putting his paws on the counter to surf.

He was left behind when his family moved out so he worries about being alone and if he'll be fed regularly. His foster family is working with him on his manners and being food driven by protecting his meals and snacks. His fosters have slowly introduced him to their pack and feel this would be the best way to introduce him to other dogs.

If you are already approved to adopt and Roman sounds like a great fit for your family, please email the adoption coordinator and let her know you would like a chance to meet him! If you haven't done so already, and live in the metro Atlanta area, please submit an application on our website and mention Roman!

George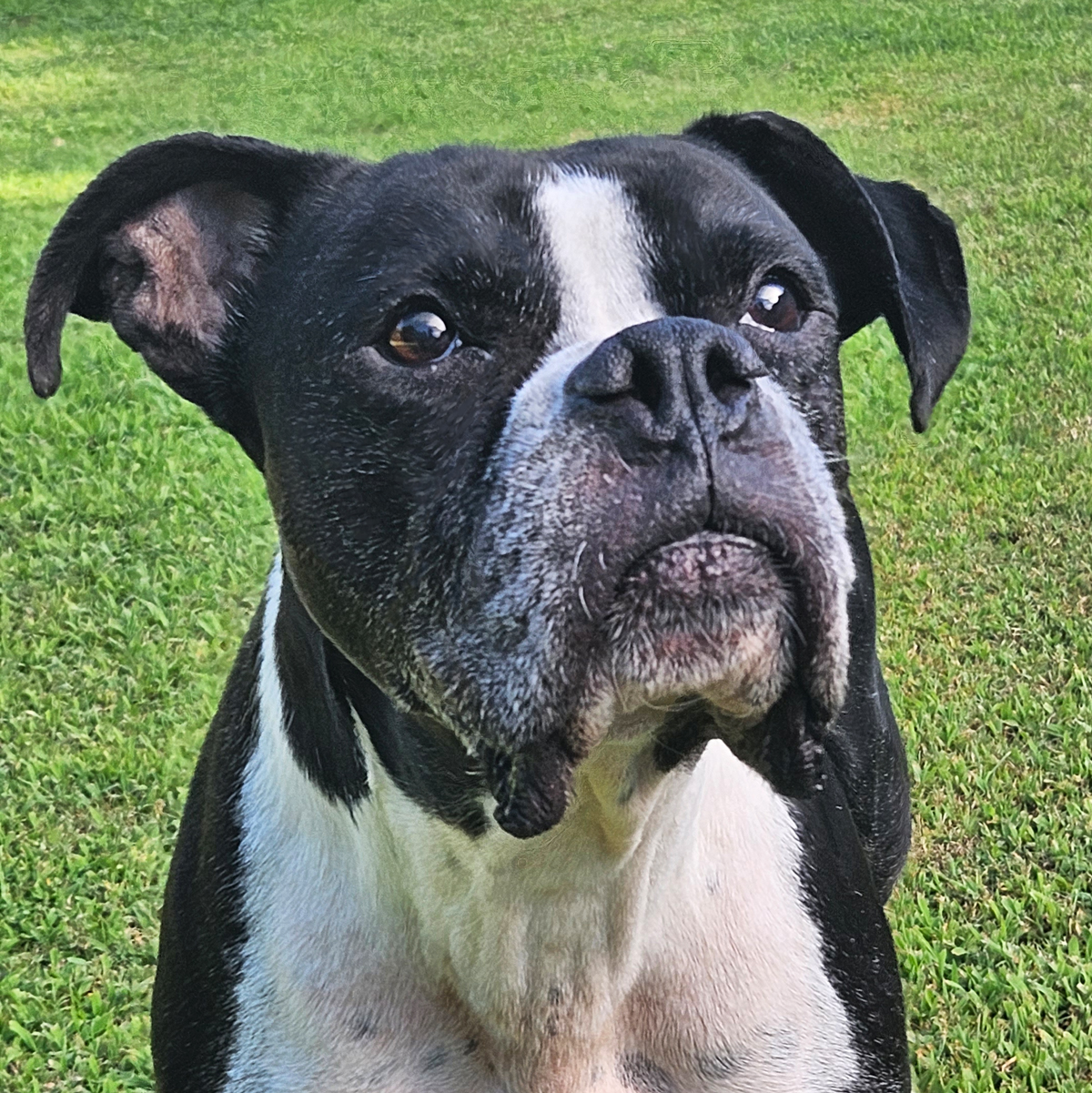 ~8 Years
Male
~58 lbs
Natural / Natural
Negative
Now
George came to us at a measly 40 pounds, and is now at 58 pounds of loving energy! He came into the rescue skinny and nervous. He is now a confident boy who enjoys a good game of fetch and getting lots of attention from his foster dad.

He's a great car rider, and just sits in the backseat watching the world go by. He's had playdate with dogs big and small, and enjoys the companionship of other well mannered dogs.

He has excellent house manners and walks well on a leash. There are no cats in his foster home, but he has shown a prey drive for chipmunks and squirrels. George knows how to sit and is working on stay and place. He is very food motivated and loves a treat. He also loves to be rubbed and in true boxer fashion, demands and leans in for attention. He was not a big fan of the vet when he first came into the rescue, but now that he's settled, that may be a different story! He's not a big talker…unless he wants to go outside and play fetch!

He is a sweet boy who has had a hard life. He would love a family of his own that understands it take a little time and patience to earn his trust. He has gotten a taste of the good life here and really appreciates the attention!

If George sounds like a great match for your family and you are already approved to adopt, please email the adoption coordinator and let her know that you would like a chance to meet George! If you live in the metro Atlanta area and he sounds like a great match, please submit an application!

Polka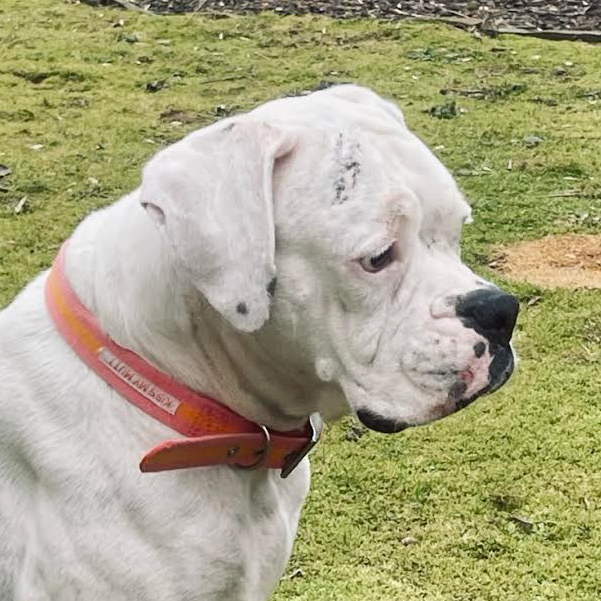 ~5 Years
Female
~54 lbs
Natural / Docked
Treated
Now
Polka is another one of our Breeder 8 that came into the rescue back in September, and has just finished up her wellness journey. She currently lives with two other boxers and two school aged kids. She may have missed out on the joys of being a normal dog, but she's making up for it now and gives her 9 yo foster fur brother a run for his money when they are playing in the backyard!

It was discovered during her vetting that she is deaf, and her family is working on ASL hand signals to help her navigate her way around. She is a little skittish if you come up behind her and she doesn't see you approaching or if you suddenly appear in her immediate line of sight. She will gently tap you on the leg when she's in need of something, like to go potty, a snack….or just a little love as she's super affectionate!

There are no cats in her foster home, but she does not appear to have a prey drive of any kind. She is crate trained and finds it a good place to nap during the day. She walks well on a leash.

If you are looking for a sweet, loyal gal, who is finally learning what it's like to be a companion animal, Polka is it!

Her wish list includes a fenced in yard to help her feel safe and secure, another friendly dog, and a family that will give her the time it takes to settle in, learn the new routines and know that she is safe and loved!

If you are already approved to adopt, and wish to meet Polka, please contact the adoption coordinator. If you live in the metro Atlanta area think Polka is your kind of gal, please submit and application

Via (VEE-ah)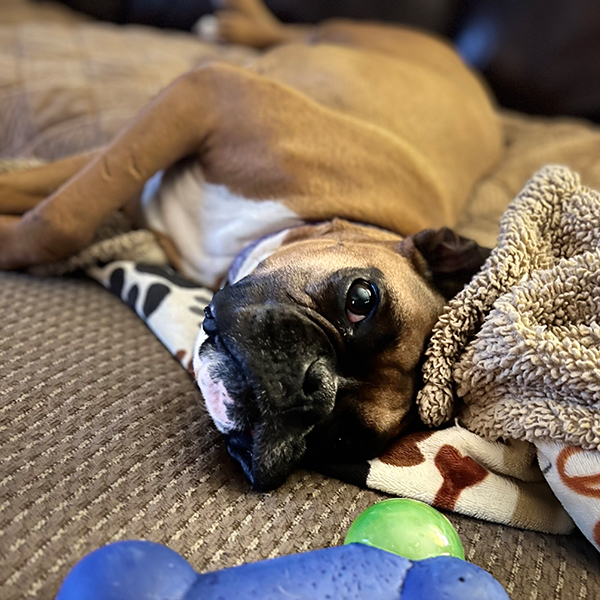 ~3 Years
Female
~48 lbs
Natural / Docked
Negative
Now
We wanted to formally reintroduce Via! She came to the rescue in August but this poor girl just couldn't catch a break and is just now ready to find her forever home. This petite girl needs a patient and loving home without kids, that will give her the time to warm up and trust her new family.

She is dog friendly with a very slow and proper introduction and likely best with a submissive dog that does not mind having ALL their toys stolen and her pushing her way through for attention. She loves any toy that makes noise, and can occupy herself with one for what seems like forever! She does great with the male and female boxers in her foster home, but she is still timid to initiate play. Via would be perfectly content as the only dog because she is happy to soak in ALL the love and attention from her humans. There is nothing Via loves more than laying right on top of her people – she cannot get close enough.

Via is house and crate trained and has never had a potty accident in her foster home. Due to her orthopedic surgery, she has not gotten much time free roam alone but when she has had it in short stints, she has done great. Her foster family works from home part-time, but she has done well in a crate a couple of days a week for up to 8 hours.

Via needs a home with a fenced-in yard. She loves to chase a ball but could never do that in a dog park or open yard because of her need for a slow, proper introduction to pets and other people. She had pneumonia when she came into the rescue and then had TPLO surgery, so she hasn't gotten to do much of the running and playing a young boxer should. That being said, she hasn't had a lot of work on the leash either. She would do best in a home that is quieter and doesn't have a lot of visitors, and craziness.

If you think you might be the special home that Via is looking for, please email the adoption coordinator and let her know. If you aren't approved yet, please submit an application through our website.

Kasey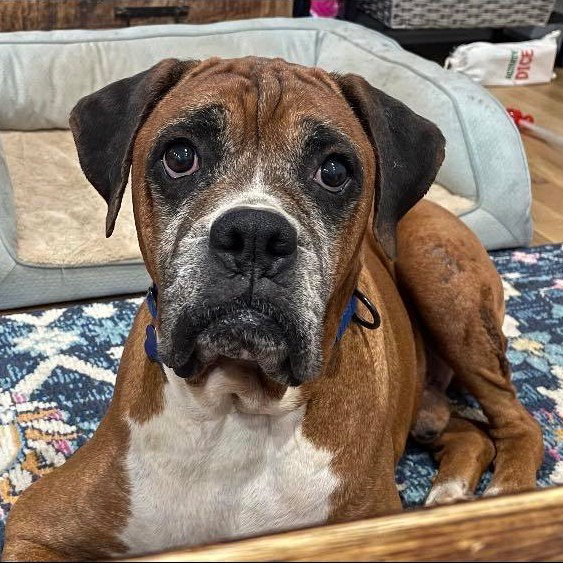 ~6 Years
Male
~71 lbs
Natural / Docked
Treated
Now
Kasey is one of the last of our breeder dogs waiting to find his forever home. Kasey has his quirks like the rest of the dogs that came in with him, and he is looking for a special home.

We will start with Kasey's positive attributes. He finds comfort in the other four legged furry friends in the house. You can sometimes find him running in the yard with his foster fur siblings, just "dogging" it. Kasey lives with two young children aged 2 and 5 and does extremely well with them. He's curious as to what they are doing, he likes how they smell, and he loves the fact that if he sits close enough to them while they are eating, they may drop some food his way! He has not been cat tested, but does not appear to have a prey drive of any kind. His safe place is his crate, that is where he spends a lot of his time. He is not destructive at all, and leaves the kids toys alone, has not gotten into anything that he shouldn't and has not had any accidents in the house in quite a while since he's been taught that you potty outside. His foster family has never heard him bark.

All 8 dogs have lived their lives with what we think is very limited human interaction and socialization. Some have come around and embraced the idea that human companionship is a good thing, and others have taken longer. Kasey is still working on this. It's heartbreaking writing this bio for Kasey, and trying to put a positive spin on the baggage that he still carries with him after 4 months in his foster home. We are sure that with some time and patience, Kasey will welcome human touch, give and accept affection, relax, and enjoy life to its fullest.

Kasey's wish list includes another dog to help him settle and navigate, a fenced in yard to feel safe and secure, and a family that will give him time to figure out that he is safe and loved.

If you ever decide to adopt a dog from a breeder, be sure to check out mom and dad. Make sure that they are well socialized dogs and not just money-making breeding machines... like Kasey.

Ziggy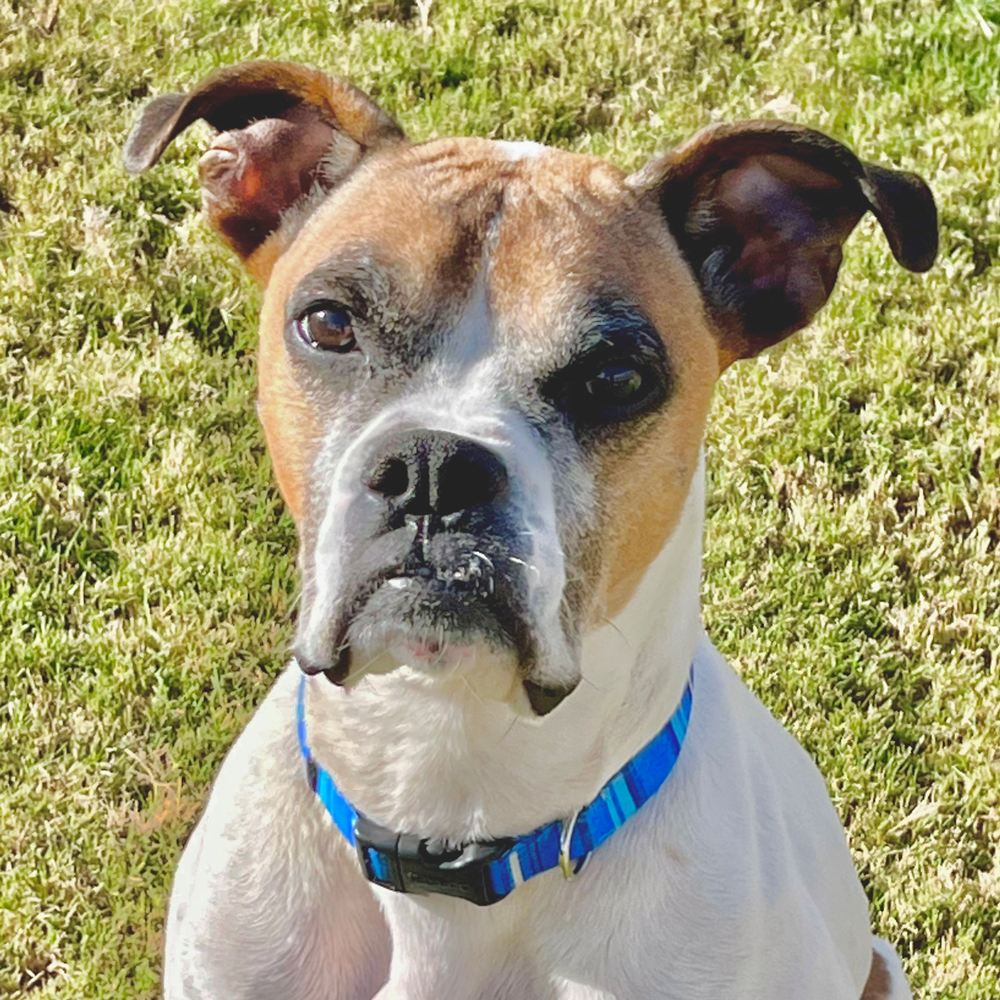 ~6 Years
Male
~43 lbs
Natural / Docked
Positive
December
Ziggy has been a dream foster and will be a fantastic addition to your family. He is a smaller boxer but BIG on personality.

He was very timid and skittish when he first arrived at his foster home but has warmed up and has become more trusting. He follows his foster mom like a shadow and loves everyone in the home. He is crate trained and has great house manners. He sits for a treat before being asked.

He is very comfortable around the other dogs at the foster home. He likes to play and do zoomies in the backyard. In terms of playfulness, he is best with a dog that does not play hard or rough. We are unsure of cats or small children as there aren't any in his foster home.

He is very food motivated and can finish his food in record time. He is now eating from a slow feeder bowl which has helped him taste and enjoy his meals more!

Ziggy is a pleaser and listens well. He loves to go on walks and does well on a leash.

Something his foster mom mentioned is that when Ziggy is let out to go potty, he goes out and goes potty. He doesn't mess around or make you wait!

He has the cutest face and stares at you with such love and happiness. He will climb into your lap and let you spoil him with lots of tummy rubs.

Ziggy would do best in a calmer home without being left for long hours, preferably with another dog.

If you are an approved adopter and feel your home is a great fit for Ziggy, please email the adoption coordinator and let her know you would like to meet Ziggy. If you live in the metro Atlanta and think Ziggy is your kind of guy, please fill out an application and mention Ziggy!

Cooper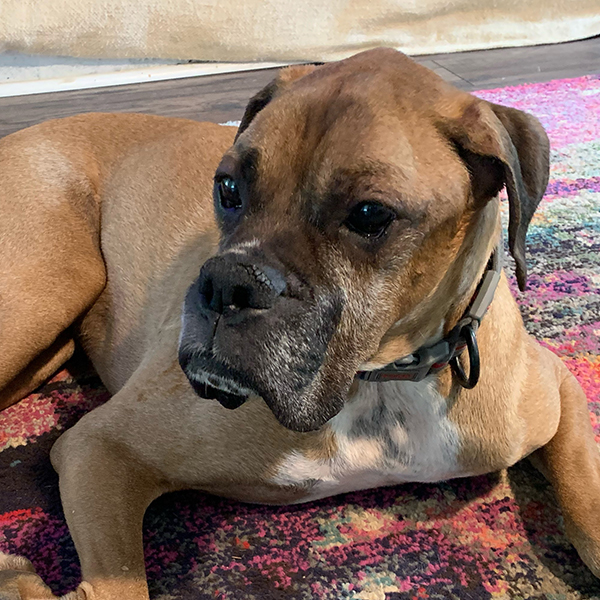 ~8 Years
Male
~55 lbs
Natural / Docked
Negative
Now
Cooper was pulled from the shelter by ABR 7 years ago, and adopted out to a wonderful home. Unfortunately Cooper's owner passed away recently. Before he passed he contacted ABR and asked us to find him another good home. When Cooper's original foster found out they jumped at the opportunity to return to fostering and bring Cooper back into their home.

Cooper is lovingly referred to as a grumpy old man. With everything that he's been through, who can blame him. He was recently diagnosed with cardiomyopathy, and is already being treated for an autoimmune disease called ITP. Luckily we have gotten that under control and just needs bloodwork every 6 months to make sure he's still doing well. He has been on meds for his ITP and we have almost completely come off of them. He will be on meds for his heart for the rest of his life though. He has been taking them 3 times a day so someone who works from home or comes home for lunch is required. Plus, he needs a potty break during the day.

Cooper does very well with his 2 fur siblings that are much younger and crazier, but we think he would enjoy having quieter, older dogs. He also does great with the toddler in the house, but we can tell he can be a bit much sometimes. He does do very well at going to another room if he needs a break though.

He is perfectly content sleeping on the sofa at night or laying on his own bed in your room. He does like to alert you when the Amazon guy is coming, and his leash manners could use a little refining, but Coop doesn't require a lot of exercise. He would be perfectly content with a fenced in backyard. He loves his people so much. He's always wanting your attention and will nudge your hand if he wants some love. When we had him the first time he would jump on the sofa and collapse in your lap. If you are looking for a dog to lay on the sofa and cuddle with you, he's your guy. Whoever adopts him will be lucky to have him.

If you are already approved to adopt with ABR, and Cooper sounds like a good match, please email the adoption coordinator. If you live in the metro Atlanta area and would like to meet Cooper, please fill out an application on our website!

Rosie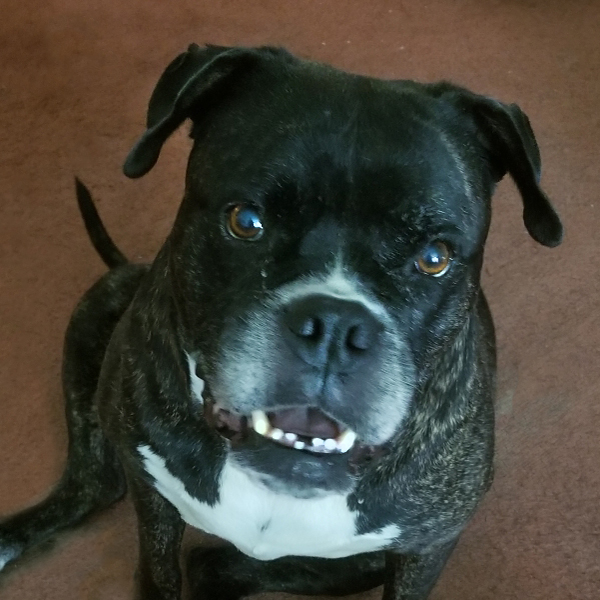 ~6 Years
Female
~74 lbs
Natural / Natural
Negative
Now
Hello, Rosie here....just wanted to stop in and introduce myself...again. I was adopted last year but now back with ABR. I have what some call a prey drive for small dogs/cats so it made walking difficult for my foster family. I lived with an older family and loved having them around alot. Because of my return, the rescue folks say I need a home with a fenced yard so there is no worry of encountering little dogs or cats. I'm a pretty low maintenance gal. I like to eat, sleep and repeat. Sometimes I get spunky and like to play with my toys. I can easily entertain myself and like to lay on my comfy bed....I can't wait to do that in my forever home. My foster mom had to leave to go help people who were affected by Hurricane Ida so now I'm in boarding....I don't know when she will return so I am hoping to find a foster or furever home. I am house trained and do well with free roam in the house, no destructive behavior. I would do best in a home without small children (teens would be great). I am also looking for a home as the only pet. I like to have my humans all to myself and give you lots of cuddles and kisses in return. If you are looking to add a gal like me to your life or would like to foster me while I wait for a forever family, just mention Rosie on your application.