Available Boxers
If you are interested in adopting, please read our FAQs and Before You Adopt pages and then fill out an application. Adoption fees are as follows: Boxer Puppy (0-6 months) - $300, Young Boxer (7-12 months) - $275, Adult Boxer (12 months+) - $250, Senior Boxer (9+) - $100. Note that we will not adopt outside of the Greater Atlanta area – no exceptions.
Please check our Facebook page for additional boxers.
Charlie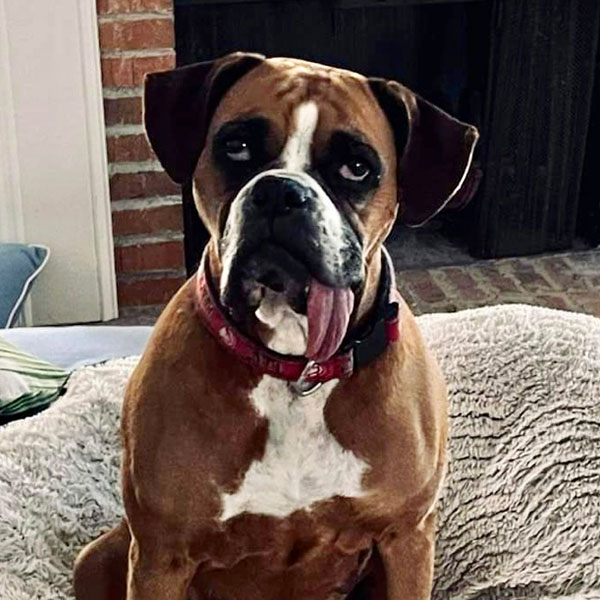 ~7 Years
Female
~57 lbs
Natural / Docked
Negative
Now
Meet Charlie! This cute girl found her way to ABR when her owner had to move out of state and was unable to take her. She's a sweet girl, very loving and is great with kids. Charlie has shown no destructive behavior in the house and does great with free roam. Her previous owner stated she did well with cats, however she has not been tested since in our care. Charlie has two dogs in her foster home but we believe she would do best being your one and only where she gets to enjoy all the love for herself. She loves being with her humans and is ready to provide lots of cuddles to one lucky family! If she sounds like a match for you, mention Charlie on your adoption application. If you're already approved, just email the adoption coordinator to say you'd like to meet this sweet girl.

Zeus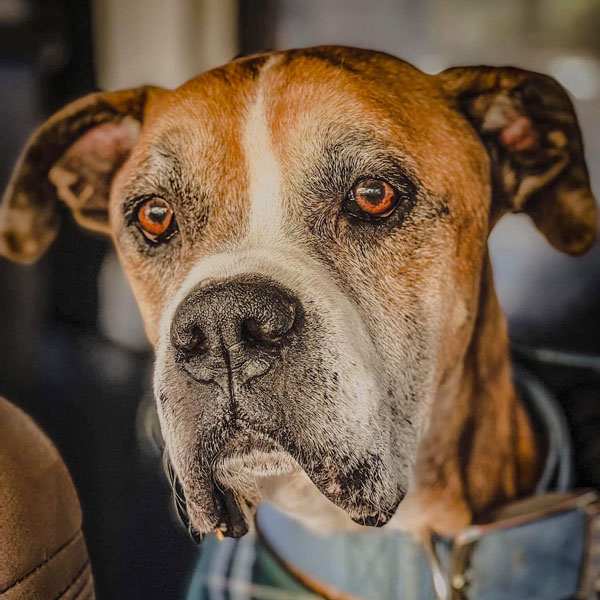 ~7-8 Years
Male
~59 lbs
Natural / Docked
Negative
Now
Hi! I'm Zeus! My foster mom says I'm a perfect companion. I love cuddles, but I'm also perfectly content playing with my toys and napping until my humans get home from work. I walk nicely on leash. I was taught to walk on my human's right side, and I do that all the time. I may be a little bit older, but you know what that means? It means I'm fully housebroken and trained, I don't need a crate but I'll use it if you want, I take treats gently, I don't whine unless i need to potty, and I don't require a bunch of exercise when you get home from work! We can just lounge around together! I'm not a fan of other dogs, but that's ok. I'm perfectly content loving my humans and showing how grateful I am for them. My foster mom says I would be perfect for someone that works outside the home but wants a dog at home. If I sound like I could be the dog you are looking for, mention ZEUS to the adoption coordinator! Not yet approved, apply online.

Bella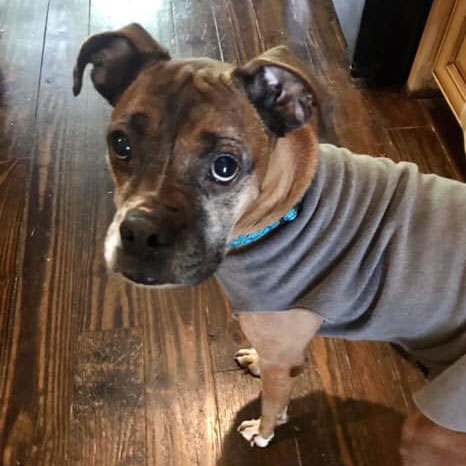 ~7 Years
Female
~43 lbs
Natural / Natural
Treated
Now
Meet Bella! This sweet girl ended up at the shelter after being found as a stray. She was emaciated, weighing only 26 lbs when found. Thanks to ABR, her days of searching for her next meal are behind her. Bella also tested positive for heartworms and has completed treatment.

Bella has a sweet, playful disposition and loves everyone she meets. She would do good with another well-mannered pup, but would be just as content to be your one and only as she loves being near her people. Having someone home more often than not would be ideal for this little love bug. She's had no accidents in the house, does well in the crate and has great house manners.

If you think Bella might be the girl for you, mention her on your adoption application. If you're already approved, ask the adoption coordinator to add you to her list.

Bruno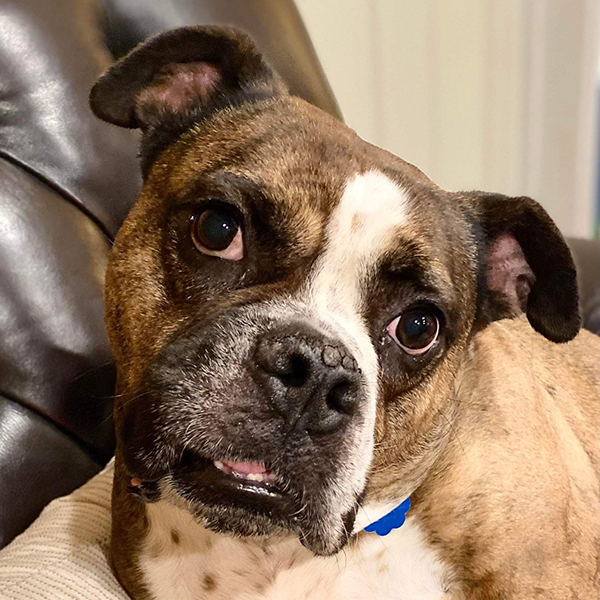 ~6-8 Years
Male
~55 lbs
Natural / Docked
Negative
Now
Sweet Bruno is a medium energy guy who LOVES to be around his people. He is very timid and needs a family that can give him time to trust. Bruno is a fun and silly boy who is house broken, crate trained and also does great free roam. He does need a fenced yard, as he is scared outside of the comfort of the home and yard he knows. Bruno would do well with another mild-mannered dog or would do great as your only furry companion. He has not been tested with cats.
If Bruno sounds like the perfect pup for you, then mention him on your application…already approved, just email the adoption coordinator!
Rosie
~6 Years
Female
~74 lbs
Natural / Natural
Negative
Now
Hello, Rosie here....just wanted to stop in and introduce myself...again. I was adopted last year but now back with ABR. I have what some call a prey drive for small dogs/cats so it made walking difficult for my foster family. I lived with an older family and loved having them around alot. Because of my return, the rescue folks say I need a home with a fenced yard so there is no worry of encountering little dogs or cats. I'm a pretty low maintenance gal. I like to eat, sleep and repeat. Sometimes I get spunky and like to play with my toys. I can easily entertain myself and like to lay on my comfy bed....I can't wait to do that in my forever home. My foster mom had to leave to go help people who were affected by Hurricane Ida so now I'm in boarding....I don't know when she will return so I am hoping to find a foster or furever home. I am house trained and do well with free roam in the house, no destructive behavior. I would do best in a home without small children (teens would be great). I am also looking for a home as the only pet. I like to have my humans all to myself and give you lots of cuddles and kisses in return. If you are looking to add a gal like me to your life or would like to foster me while I wait for a forever family, just mention Rosie on your application.

Mason
~5 Years
Male
~48 lbs
Natural / Docked
Negative
January
Mason was found as a stray in Atlanta and waiting for help at a local shelter. He came to ABR very thin and with a bad upper respiratory infection. He's gaining weight and has since recovered from his infection, but unfortunately we found out he has Cardiomyopathy. He is taking daily medication to help with his diagnosis which he will continue to take the rest of his life. Because of this condition, Mason may have a limited life span...but we never know what his future holds. He would do best in a less active home as he shouldn't run or get too much exercise though he can be a normal pup and enjoy moderate walks and playing with his toys. He has a few more follow up vet visits and we will be getting a few lumps checked out to ensure he's healthy for adoption...that's the bad news.

The good news is that he is super adorable and he has a great personality. He will "talk", play with stuffed toys or a ball and he loves his crate. Even though he has free roam in his foster home, he prefers his crate and is often relaxing or sleeping in it. Mason is house trained and walks gently on a leash. He only pulls if he is excited about a car ride. He is on the smaller side and probably could gain a few more pounds. He has the cutest underbite which shows one tooth sticking out at times, you can't help to fall in love with him. Mason seems to take more to women than men, though he is fine with his foster dad, it took a little while for him to come around. It may take slow introductions to new men before he is comfortable. He and his foster fur brother, have become great friends, they enjoy each others company. He's a great little companion that makes his foster parents laugh and Mason easy to love. He would do well in the home of an older woman or couple, retiree, quieter home. He's really an easy dog to care for and doesn't require much except love. Mason will bring lots of joy to a special family for whatever length of time he has left on this earth. We are optimistic that with the appropriate home, vet care and medicine, he will have many happy years. If Mason sounds like a match for you, just mention his name on your application. Or is you are already approved, email the adoption coordinator and ask to be on his list.