Happy Tails 2021
Sugar
Happy Tails to Sugar! This little nugget found a great family with a stay-at-home mom, who is absolutely over the moon to have her, a dad who can't wait to teach her tricks and 2 skin siblings to cuddle with.
Blaze and Chunks
Happy Tails for Chunks (now Chuck) and Blaze! Remember these two were dropped off at animal control when their family had to move out of state and they could not go. We know it's difficult for "bonded pair" adoptions but these two boys needed our help and were so scared in a loud shelter. Well, much to our surprise, it did not take long for a family to fall in love and want to add these two boys to their hearts and home. Chuck and Blaze will be spoiled as the "only kids" in the home and enjoy spending minimal time alone. We know their new family is enjoying twice the love and fun from these sweet boys! We wish you all the best
Peaches
Happy Tails for Peaches! This sweet girl was adopted just in time to spend the holidays with her new adorable family with 3 lovely girls. Peaches is lucky to have a home that loves her so much already.
Ruger
Happy Tails for Ruger, now Hunter! This sweet boy couldn't catch a break in his young life. With all the changes and uncertainty, he was still a happy go lucky pup and trusting of humans. We are thrilled that he found his way to ABR and into the arms of an amazing family.....You know what they say, when one door closes another one opens! Hunter will be spoiled by an amazing mom and dad and get to spend his days playing with his new skin sibling. We wish you all the best! Enjoy your new life, Hunter!
Zeena
Happy Tails for Zeena! We are excited that Zeena has found her furever family! It was love at first sight and as if she had always been there. She will be loved and spoiled by her amazing parents and skin siblings. Enjoy your new life Zeena!
Margo
Happy Tails for Margo, now Alex. She found an amazing home with the best parents a girl could ask for! She'll spend her days chasing tennis balls and getting lots of cuddles and love from her forever family. We know she will be spoiled rotten as she enjoys being the only "child" in the home. Enjoy your new life sweet girl!
Buddy and Delilah
Happy Tails for Buddy and Delilah! These two pups will spend the day hanging out with their new family, enjoying walks, chasing squirrels and getting plenty of love! Their new family was not looking for two but we sure are happy they fell in love and able to give them the loving home they deserve. We wish you all the best and know they will bring many happy memories!
Chico
Happy Tails for Chico! This sweet boy just celebrated his 10th birthday with a furever mom! Chico came to the rescue as an owner surrender due to no fault of his own. He will get to spend his days hanging out with mom while she works from home, going on walks, playing with his toys and lots of cuddle time. We are so happy there are families open to our senior pups and want to give them the best life ever in their golden years. Enjoy your new home Chico!
Lola
Happy Tails for Lola! This sweet girl came to the rescue a little shy and timid. She was full of wiggles and love but just needed a patient family to help her feel safe and comfortable. She has found an amazing home with amazing parents who can dedicate their time ensuring she is well cared for, loved and spoiled like every pup should be! Enjoy your new life sweet girl!
Lily Lou
Happy Tails for Lily Lou, now Georgie Girl, with her forever family. She's going to get all the cuddles she could ever want, and a fenced yard for her zoomies!! Enjoy your new life sweet girl!
AJ
Happy Tails for AJ now called Archie. This sweet boy waited a while to finally be "officially" part of a family. Archie came to the rescue heartworm positive and quickly after, discovered he needed orthopedic surgery (TPLO/CCL). He has been on restricted activity for the past 4 months and has not even had a chance to take a walk, play fetch or all the fun things young pups do when they get sprung from the shelter! But Archie will have plenty of opportunities to make up for lost time with his amazing family who helped nurse him back to health! He is one loved and spoiled pup who is ready for some adventure! Enjoy your new life Archie!
Blue
Happy Tails for Blue! This sweet boy has found his perfect match...a family that loves him as much as he loves them. He has his very own skin brother to cuddle and play with, a wonderful mom to help take care of him and give him lots of kisses and an awesome dad to lounge on the couch and have some "guy" time, what more could a pup ask for! Enjoy your new life Blue, wishing you all the best!
Ziggy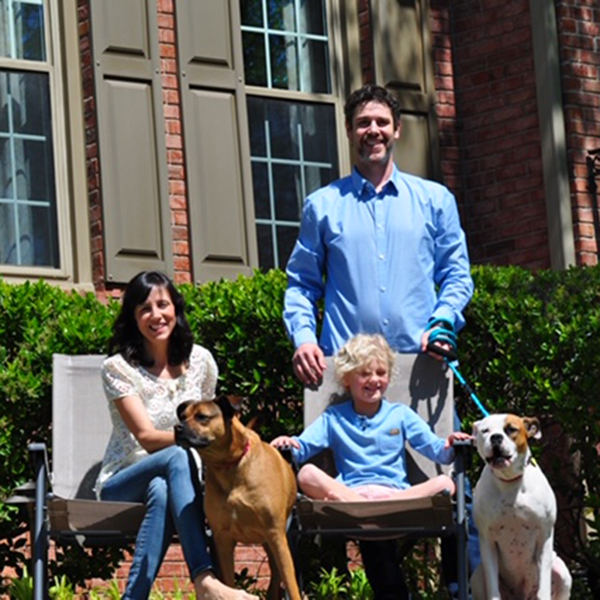 Happy tail! Ziggy has found his forever family! He's a lucky pup and has his very own boy and fur brother for endless hours of play. We wish Ziggy a wonderful life with his new family!
Bonnie
Happy Tails for Bonnie! This sweet girl could not be more loved in her forever home! She came to ABR with some medical concerns but with the love and care of the ABR team and foster family, she is healthy and happy. Bonnie will get to share her life with an amazing mom and dad and two adorable skin-siblings. We are so happy for this little girl!
Fiona
Happy Tails! Opening day of the MLB season may have been canceled, but sweet Fiona sure hit it out of the park today and slid right into her forever home! She found her perfect match with a wonderful family (previous ABR adopters) where she will be well loved and spoiled rotten! Enjoy your new life sweet girl!
Auggie
Auggie here! I had the best 4th birthday a guy could have. I got the best present ever - I got a family! That's right, I got a yummy carob peanut butter birthday cake (and yes, it does say 'Yappy Barkday' on it). Lots of people stopped to love on me and tell me happy birthday and then I only had to wait one day for my forever family to pick me up! I have a Mom and Dad who work from home and a whole acre to run around! I am a lucky boy.
Maddie
Happy Tails for Maddie! This sweet girl went from rags to riches in every sense, from living in a less than desirable environment and health to being a spoiled pup with nothing but the best conditions, medical care and treated as part of the family. She is spoiled by adoring parents and a very sweet fur-sister that keeps her company when mom and dad are at work. We could not be happier for her Happy Ever After and wish her all the best!
Elroy
Happy Tails for Elroy! This sweet pup has found the perfect home with a Mom and Dad who are not new to our rescue, they adopted big sister Ava last year and she is showing him the ropes and how to live a life of a spoiled pup. There will be plenty of adventure and mischief with these two! Enjoy your new life Elroy!
Leo
Happy Tails for Leo! We knew it wouldn't take long for a family to fall in love with this sweet guy! He's found an amazing home where he will spend minimal time alone and live out his golden years with plenty of attention, love and snuggles!! Enjoy your new life Leo!
Mahomes
Happy Tails for Mahomes!! This Mahomes did not win the Super Bowl, but did win the hearts of a furever family! We are so happy for this sweet guy especially all that he's been through. Mahomes came to ABR after spending a couple of months in a rural shelter, undergoing heartworm treatment, very emaciated and still had some additional medical concerns to address while in ABR's care. His family saw his freedom ride post and reached out to us and it just so happened that Mahomes was in need of a foster home. They did not hesitate to say yes in fostering Mahomes and helping him get healthy, and of course fell in love and made it official once he was medically cleared. Mahomes knew he was home the moment he stepped foot into their house and they knew he was theirs the moment they laid eyes on him. We love happy endings! We wish you all the best!
Emmie
We are THRILLED to announce this happy tail for Emmie!! This sweet girl literally had the rug pulled out from under her and her world turned upside down. We will spare all the details, but there was no other place for Emmie to go on such short notice other than boarding. She was a scared little girl and took some time to open up and with every new person, she had to to take time to build a trust all over again. We knew Emmie needed our help and a once fun loving outgoing girl had now turned into a scared, fragile and defensive survivor surrounded by strangers and unfamiliarity. We boarded Emmie with one of our trainers at The Dog Spot who worked with Emmie on confidence building in hope of helping her find a furever home. Lucky for Emmie and ABR, we had a match! 238 days, 34 weeks, 7 months and 24 days, 34 Saturdays, 34 Sundays and 8 federal holidays later...Emmie was adopted!! Emmie is now enjoying the luxury of a nice warm home, building trust and thriving with her new Dad. Both could not be happier with the match and we are over the moon for Emmie! Enjoy your new life sweet girl!
Biscuit
Happy Tails for Biscuit! This sweet girl has hit the family jackpot and we could not be more happy for her. As you remember, Biscuit came to ABR is very bad physical condition. She had a long road to recovery but with the help of her foster family and now her forever family, Biscuit is a thriving young pup loving life! With her wonderful parents, two fur-sisters and two skin-sisters, she is getting plenty of love and attention. There was no question about it that love was in the air and this was a perfect match! Enjoy your new life Biscuit, you deserve it!
Buddy
Happy Tails for Buddy! This sweet boy charmed his way into the hearts of the perfect family with plenty of love to go around! There is no shortage of attention with his new family of 5! His family is a previous adopter and was actually ABR's first adoption in 2008, adopting #1 Tiger Lily, our first foster dog in the rescue. Their hearts were broken when she recently passed and were now ready for it to be healed. They could not be happier to have another wiggle butt in the family and so excited to welcome Buddy, ABR foster pup #1695, home. We wish you all the best and many happy years!
Kobe
Kobe is proud, happy and giddy to announce he has his forever family! This picture says it all! Welcome to the boxer family life!
Grace
Happy Tails to Grace! This lucky girl found her way into the home and hearts of one of our ABR Alums where she is being spoiled rotten. After the recent loss of their boxer, they weren't sure when they would be ready for the pitter-patter of 4 paws again but once they met Grace, it was love at first sight. We love our repeat adopters and we wish you many happy memories!