Available Boxers
If you are interested in adopting, please read our Before You Adopt section and then fill out an application. Adoption fees are as follows: Boxer Puppy (0-6 months) - $300, Young Boxer (7-12 months) - $275, Adult Boxer (12 months+) - $250.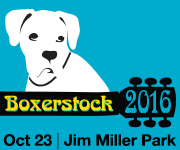 ATTENTION: Many other ABR dogs will be ready at Boxerstock! If you are interested in adopting, please fill out an application ahead of time. You may meet the dogs, but only approved applicants will be able to adopt at the event.



Ellie
~5 Years
Female
62 lbs
Natural/Docked
Positive
November
Eleanor, aka Ellie, is an easy going, happy go lucky sweetheart. During her first visit to the vet, a reference was made about being a concrete dog. It is suspected that her past life consisted of living on hard surfaces outside. She definitely loves a soft bed, almost as much as your attention. Ellie will leave food or a comfy spot if she thinks you will give her love. She is working on manners, such as jumping when she gets excited. However, it took her a very short time to learn to ask for attention by sitting and is making improvements daily. She is excellent on a leash, does her business outside, and even though she will go in the kennel, she is left out with no issues. Learning sit and shake within the first week, she just wants to make you happy. Loves to give kisses and lots of them. No issues with the resident male and female dogs. Ellie gets along with everyone she has met. She is easy going and does not react to new situations, but interested to check things out. Ellie's goofy personality is presenting a fun experience to be a part of until she finds her forever home. If she sounds like a fit, then mention Ellie on your application.

Kyra
~2-3 Years
Female
50 lbs
Natural/Docked
Negative
October
Kyra is a super sweet girl that loves nothing more than to be in your lap. She has developed the sweetest personality and is now enjoying her fur brother as a playmate. She showed interest in the cat, but soon learned that was a big NO NO and she now pays her kitty fur sister no attention at all. Kyra isn't much into dog toys but she is learning they could be fun. She does however love to run and play in the grass with her fur brother. At first riding in the car she was nervous, but now since she has a few joy rides under her belt, the car isn't such a bad place to be and she relaxes and enjoys it. Kyra is a very calm relaxed dog in the house, low energy and not a barker.

Hope and Jade
~1.5 Years
Female
41 lbs each
Natural/Docked
Negative
October
Hi. We are Jade and Hope. We are told we are beautiful and sweet. We've even heard the word "adorable". We prance and jump like a couple of little deer.
What a difference a few days make! Our owner left us with a friend who couldn't properly care for us. We were left outside, sometimes without food or water in small crates. Someone called the police, a nice officer ( a boxer owner) came and told the person who had us how to contact ABR. Then, our world changed forever.
We are about 18 months old. We are not siblings but only 2 weeks apart in age. We are spayed, HW negative, and the vet said we are remarkably healthy for being very underweight.
We are crated together at night and do very well. We are doing very well with house training, too. We are getting plenty of nutritious food and water, lots of exercise and freedom we may never have had. We know how to sit. However, we still have a lot to learn,. The good news is we are very willing to learn. We like to ride in the car.
We've heard it is hard to find a home for two playful pups, but we have been together all our lives and really love each other. We play, sleep and eat well together. We are starved for human interaction and are very affectionate.
We are great with other dogs. At the vets office there were several cats in a large cage. We sniffed them but they didn't seem very interesting
Could you provide us with love and give us the happy life we deserve?

Winkles
~5.5 Years
Female
52 lbs
Cropped/Docked
Negative
November
Winkles is settling into her foster home. As more is learned about her, her bio will be update.

Gypsy
~10 months
Female
50 lbs
Natural/Docked
Negative
October
Hi, my name is Gypsy! I am about 9 months old and I came into ABR with my little brother, Sox. We both arrived with a case of demodectic mange (the non-contagious type of mange) but we are both currently undergoing treatment and doing much better! As soon as my skin has cleared up I will be spayed and ready for adoption. I currently live in a foster home with 4 other dogs and 3 cats. I love playing with my foster siblings and I have a lot of energy! I also do well with the cats, I like to try playing with them but for some reason they do not want to play with me. I am also your typical "velcro boxer" and love to be around my humans all the time! I am potty/crate trained and I would do great in a home with another dog and plenty of room to exercise! Won't you consider letting me join your family?

Lena
~4 Years
Female
45 lbs
Natural/Natural
Negative
Now
Lena found her way into the care of Atlanta Boxer Rescue by a volunteer who found her extreme neglected state and pleading eyes too much to turn away. She was too weak to walk in the vet's office, but has blossomed into a companion like no other. Lena was diagnosed with diabetes. This can sound complicated, but being on a schedule is the hardest part. She is fed two times a day and 30 minutes after her meals she seems to know her shot is due. It does not appear to even bother her. She gets the same type of insulin people receive. She sits or comes to the refrigerator with you to get her shot, then gets excited about baby carrots for a treat. This girl is not a picky eater, loving vegetables for treats. She needs a constant schedule with feeding, treats, and exercise. She has flexibility to adjust to your schedule, but needs a routine to prevent sudden changes in her sugar level. She would be best suited being the only dog to receive your attention. Happiest by your side, she does not require a big yard to play. When finished doing her business outside she is found sitting on a chair looking for someone to let her inside. Lena seems to understand direction given and is eager to please. Already crate trained, house broken, and is good on a leash. She knows "sit" and picked up on "wait" quickly. A fun girl to train because she picks up so quickly, and easy to reward with treats or toys. We can't speak enough on her good manners. This happy girl just wants to be close and if you talk to her, she can't help but reach up to give kisses. It is hard not to fall in love with the excitement she shows when giving and receiving affection. If this is a companion that will fit right in with you, mention Lena on your application.

Gretchen and Milo
~3.5/~1.5 Years
Female/Male
50/55 lbs
Cropped/Natural; Docked/Natural
Postive
October
Hi, I am Gretchen! My son Milo and I were darting in and out of traffic when some very nice people stopped to give us food and take us to safety. Thankfully we made our way to Atlanta Boxer Rescue and things have been much better ever since! I love playing with my toys and giving kisses. I don't really like other cats and dogs (except for Milo) so we will probably need to be the only animals. I am currently recovering from surgery but will be better soon and would love to make my way into your heart!
Hi, I am Milo! I am a playful guy who loves "boxing," going on walks and just being with my humans. But most of all I love my mama! We are both house and crate trained and love humans of all ages. I am a little skittish at first, but am becoming more trusting each day. If we are the dogs for you, I promise that I will never leave your side! If you think we might be the dogs for you, mention us in your application!

Ruthie
~5-7 Years
Female
40 lbs
Natural/Docked
Negative
Now
Meet Ruthie!!!! They call her a pocket boxer because of her stature. Ruthie loves to sleep, nap, and sleep again. On a scale of 1-10 her activity level is a 1, however that does not stop her from being a sweet, sweet girl! Heart worm negative and getting over kennel cough. She gets along with all dogs big and small and curious about cats. Ruthie is calm and gentle with strangers and small children and great in the car. If you think this lazy girl if for you please fill out an application and include her name! RUTHIE

Clarabelle
~5 Years
Female
48 lbs
Natural/Docked
Positive
November
Clarabelle is a sweet girl. She was picked up by animal control as a stray. She is good with my six dogs and two young children. She is heartworm positive and has a long road of treatment ahead of her. More information to come as she settles into her foster home and gets well.

Happy
~5 Years
Male
60 lbs
Natural/Natural
Positive
September
Hi, I'm Happy! I was named in the shelter by the ladies who helped me to find ABR, because I was such a happy boy. I came to ABR with some tumors & heartworms. My foster mom has been taking care of me for the last couple of months, while my tumors were mast cell, they were completely removed. I also had treatment for those yucky worms! Now, my foster mom says that I am healthy enough to start to look for a forever home!! YAY!!! I can't WAIT to find a place of my own with some fur siblings! I love to play with my fur foster brother and fur foster sisters all the time. We can get a little crazy but when I am not playing I will look up at you with my pretty, big caramel colored eyes ready to cuddle up and take lots of hugs, kisses and pets from humans of any size. I'm a smart boy too!! I am good about going in my crate, especially if that is where I am going to get fed. But just so you know, I may not always STAY in my crate. It's a great trick to show up at the front door to greet my foster mom when she knows I was in my crate when she left. I tried to tell her it's just that I don't really need a crate - I haven't torn anything up when I get out (though I did have an accident before, oops!). My foster home doesn't have a fenced in yard, so I go for potty breaks on leash, and I love to sit outside & sun my bum. I also know how to take nice walks on leash too. When I encounter other dogs on walks I just give them a pleasant nod & go about enjoying the time with my people. My foster mom says that with liking dogs, cats, adults and kids, I should be able to spend the rest of my life being loved by a family who wants a dog that has everything to offer. If you are looking for a dog that can easily fit in to any environment please mention HAPPY on your application! I look forward to meeting all of you & you can see for yourselves what a happy boy I am!

Sox
~13 Weeks
Male
28 lbs
Natural/Docked
Negative
October
Meet Sox. A 13 weeks old, brindle boy full of energy and love. He has a slight case of demodex mange that is being treated. Once that clears, he will be neutered and ready for adoption. He is HW negative, beautiful natural ears, docked tail. He's brindle with white sox on all four feet and white on his chest, and he weighs in at 28.8 lbs. So far, he's a total love bug -- loves toys, loves outside, loves other dogs (has been around dogs bigger than him), and ADORES kids and all people! Seems pretty gentle for a puppy and has already learned the Sit command. Will be an awesome dog for a family with or without another dog -- but I'm sure he'd love a playmate or two! Get your applications in....a puppy this fabulous won't last long!

Riley
~4 Years
Female
55 lbs
Natural/Docked
Negative
Now
Hi Everyone! My name is Riley. I am a sweet, laid back, loving, little girl. My story is a sad one. My family didn't have time for me anymore so they no longer wanted me. Thankfully, the good folks at ABR took me in. I was so sad and scared. I didn't understand what was happening. My foster mom and dad gave me lots of love and told me that I would never be unwanted again. I have lived with kitty cats most of my life and currently live with one now. I have lived with small children however I can get a little clumsy when I get excited. You see I am an expert at doing the boxer wiggle. I currently have a boxer brother and sister but sometimes get a little sassy with the female. I'm still not sure if it's her or me. I do like slower introductions with other pups so I probably would not enjoy going to a puppy park. I love, love, love to be with my humans. We can play, watch a movie or just take a nap. I am totally house trained and crate trained. I also know commands like shake (with both paws), sit, lay down, stay and come. I am a smart little girl and love to make my humans very proud. I do not pull on a leash however I do need to get a little more comfortable when walking by other dogs. I am just protective of my family because I love them so much. I will need to be walked on a leash or have a fence higher than 4 feet. All I want to do is cuddle and wiggle and please. I will love you with all of my heart if you just give me a chance. I am healthy, spayed and chipped and ready to go to my furever home. Can that be you?

Dutch
~5 1/2 Years
Male
70 lbs
Natural/Docked
Negative
Now
Hi, my name is Dutch. I am a sweet, handsome boy with lots of love to give! My bark may be loud, but once you get to know me I will be your best friend. I get along with other friendly dogs, but not cats or other small animals. I am crate trained and house trained, and I do well in the crate when my foster mom is at work, but I would do best with an owner who is home most of the time. I do pretty well in car rides, and I know how to "sit" and "shake". I bond very quickly with my caretaker and want to be wherever they are! I like playing with my toys and I LOVE walks! I get so excited when my foster mom gets my leash out! Even though I'm a big strong boy I do not pull on walks. When my foster mom comes home I get so excited to see her that I hop around like a bunny! I'm also a great guard dog, and I will let you know if someone is on the property. My favorite way to show you I like you is to lick your face and give you lots of kisses. All I want is to have a forever home with a family that will love me just as much as I love them!

Journey
~5 Years
Female
62 lbs
Natural/Docked
Negative
July
I'm just a small town girl...living in a lonely world. I took the midnight train going anywhere...And I ended up with ABR! Hi! My name is Journey. I am a sweet girl, I love cuddling on the couch and I give the sweetest boxer kisses. I adore car rides so you can even take me with you to different places! I get along with my size or larger dogs. I like to chase cats and small dogs so my home should be free of those. I would do best with someone who is home full-time and I need a fur buddy to keep me company when you leave. If you think you can love me as much as I love you, please be sure to put "Journey" on your application. And remember, "Don't Stop Believing..."

Bindi
~3 Years
Female
50 lbs
Natural/Docked
Negative
Now
Everybody loves Bindi. And Bindi loves everybody. She plays well with the tiniest Yorkie and the Biggest Great Dane and everybody in between. She is good with cats even though they don't play well, and she loves all people - especially those little ones. She is incredibly smart and it doesn't take very long for her to figure out the rules. She loves to play and has plenty of Boxer energy; she loves to run, and jump, and box, and wrestle. She especially loves to play fetch with about anything you can throw - balls, toys, pinecones - if you throw it, she'll run to get it. When she isn't playing, she is a calm girl who just wants to lay close and watch tv with you, or look out the window, or just take a nice long nap.
She has a very gentle mouth and is very careful when taking treats from your hand, but her bowl is her bowl and she feels threatened when someone gets close to it while she is eating, probably from a difficult time in her life not too long ago when food was hard to come by. When Bindi came to us she was a very sick girl. She had giardia and kennel cough and was barely able to stand. We thought that was all it was, but as she got better we learned that not all her medical issues were temporary. We don't know what happened or when, but Bindi has partial paralysis in her back quarters. It isn't noticeable while she is running and playing, but she wobbles a little when she sits, and she doesn't have full control of her bladder and bowels. She also can't squat so she isn't able to 'eliminate' completely on her own. So having Bindi is a little like having a toddler - she has to be in a diaper. And once a day she needs help emptying her bladder so she doesn't get a urinary infection. She doesn't mind her diaper, and she doesn't try to take it off. She can even go awhile without it on but keeping it on is generally a better idea. If she gets excited or frightened, she will tense her stomach muscles, and there will be an accident if she has a bare bottom. It is surprising how quickly that diaper is just a normal part of life and she is just a normal, energetic, loving, sweet puppy.
About everybody who meets Bindi falls in love with her. It will just take a special someone willing to take the extra time and effort to care for her. And you might just love her a little bit more, because she needs you a little bit more than a 'normal' dog does.

Sookie
~6 Years
Female
56 lbs
Natural/Docked
Negative
Now
Hi there, My name is Sookie! You may have noticed I am missing an eye, but that doesn't make me any less of a great dog. I was found after I was hit by a car but unfortunately, they were not able to save my right eye. Even though I am blind on one side, I have adjusted very well and don't seem to startle easily. I love going on walks and do so at a very nice pace in my harness. I'm potty trained, crate trained and know commands like sit, stay, shake, and up. When I get really excited I jump straight up and down like I'm on a trampoline. The higher I jump, the more I make my foster mom laugh. I am such a silly Boxer! I have a young Boxer sister at my foster home and I love playing with her. In my previous home I loved playing with my foster skin brothers and sisters and would even sleep with them at night and every time a child comes over to me I like to smother them with kisses. Since I am an alpha female I would be just fine by myself or with a submissive dog similar to my size where I can play rough and I can be the boss. My foster mom says I make a great guard dog and need slow introductions to new people and dogs. The folks here at Atlanta Boxer Rescue have noticed that I don't seem to like strangers (especially men) approaching me while wearing sunglasses and/or a hat. It's an odd quirk, but only I know the reason why. So if I sound like the dog for you, and I really hope I do, please mention Sookie on your application

Betsy
~3 Years
Female
~65 lbs
Natural/Docked
Positive
Now
My name is Betsy and I am a sweet, loveable girl who wants nothing more than to be close to my human friends and share my boxer kisses. My foster family keeps saying they are amazed at how calm I am. I love greeting new friends with a boxer wiggle and a big slobbery kiss. After I greet people, I settle in on my comfy dog bed and like to relax there. I am crate trained, potty trained and have never chewed on anything other than dog food. My favorite hobbies include sleeping, eating, going for car rides, and taking a short walk around the block. While I have lived with another dog, right now I am unsure of strange dogs and would best as your one and only. If you are looking for a calm, cool, and collected girl full of boxer kisses mention BETSY on your application.

Faith
~9 Years
Female
~65 lbs
Negative
Now
Faith had quite the rough life before coming to ABR. She was found roaming the streets, severely malnourished and full of parasites. ABR volunteers worked incredibly hard to get her weight up and she is now happy and healthy, but longs for a forever family. Faith is completely crate-trained, leash-trained and house-broken. Faith minds very well, and has excellent manners on the leash and inside the house. Faith is okay around adults and kids. She is not great with dogs, but has done well when slowly introduced to older/calm male dogs. Faith would love nothing more than to find a forever home to go on long walks and relax with her humans. If you would like to know more about Faith and meet her, please ask for her on your application!